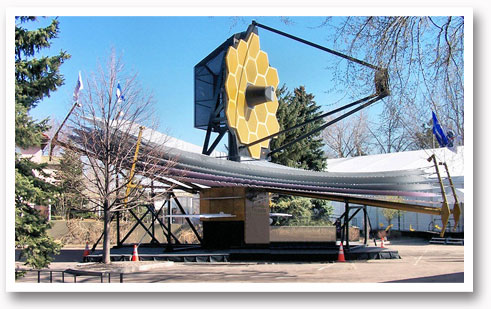 James Webb Telescope
The Aerospace Industry has always been cutting edge. Especially now, with Satellite Communications, ipods, Wireless Computing, Direct TV and Homeland Security. The industry is simply alive with innovation and our passion for excellence (and Xtrememachining) is strong.
However, U.S. Manufacturing is fragmented and reduced. Few high school students study mathematics, or science, and an even smaller percentage of them consider manufacturing. Our skilled labor force is shrinking (especially for high-tech machine shops) and we're graduating fewer engineers.
We think XtremeMachining.Com may help in communicating something important. We think the site can differentiate what we do, and express the excitement we feel for our profession. Metalworking is light years apart from the misinformed impression many students have of this industry. Just ask the St. Andrews Team Orion Rocketeers whom we recently bestowed with our Liberty Cannon Award. We've been sponsoring them for nearly four years in building parts for their missions. Their last two years under Contract with NASA have been enormously positive and inspiring.
Numerical Precision has always nurtured Expert Programmers and Machinists who seek the ultimate challenge in making ultra-precise cuts and high speed turns on difficult terrain. To work on space worthy programs means blazing a trail in manufacturing new components with complex geometries or critical tolerances.
Do you have a comment, or feedback? Perhaps an idea that could bring more interested people to this industry? Are you a Student, or Job Seeker? If so, please Contact Us, or visit For Professionals Only.
Thank you for visiting Xtrememachining.com!
Egon R. Jaeggin,
Numerical Precision